Updating a User Account
Edit account information, change name, change birthday, add an address, add a payment method
Feature Definition: Updating your GoTab Profile

Benefits: If you are a frequent user, you will want to make sure all your information is up to date and accurate. This article will show you how to edit your profile as well as your payment method.
To start, if you have not yet created your GoTab account you will want to use this article: https://success.gotab.io/knowledge/creating-an-account.
If you already have an account and want to edit your account information then you are in the right place. Follow these simple steps:
1. Navigate to gotab.com and select the profile icon in the top right corner: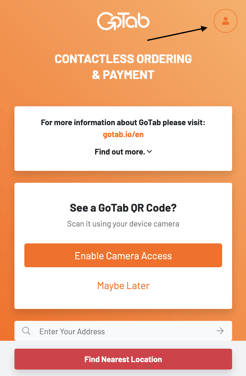 2. You are now already in the edit profile page. From here you have access to all of your account information and settings:
1. Name: Name that appears to locations when you order
2. Your Age: Locations that serve alcohol and may require you to verify that you are above 21. Note: you will still be required to show a valid form of ID
3. Payment Method: Add a credit card, debit card, or mobile wallet
4. Address: You may wish to add an address if you plan to order delivery from a GoTab location