Step by step instructions for how to place an order
Step 1: Scan the QR code at your table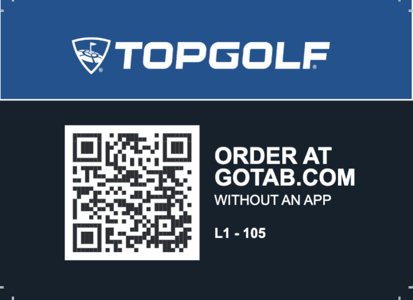 Step 2: Look through the menu or jump to a specific category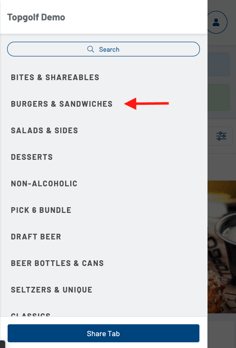 .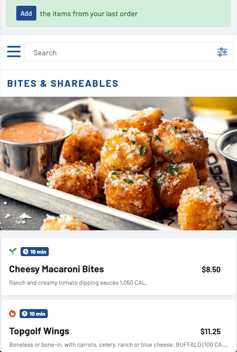 Step 3: Click on an item to choose modifiers and add it to your cart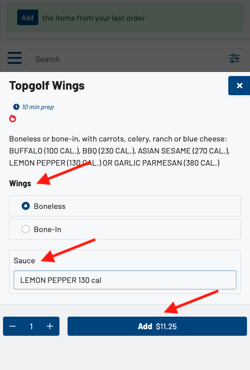 Step 4: Select "Review Order" at the bottom of your screen to begin the checkout process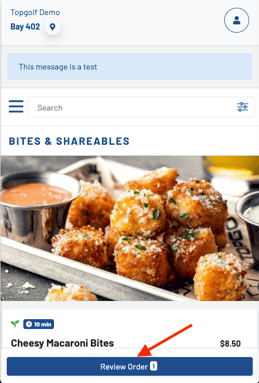 Step 5: Confirm that the order is correct and select "Open Tab."
Note: You are not asked to enter a tip at this point as the tab is just being opened. The tip occurs during checkout, or if you fail to manually checkout, will be automatically applied at the end of the fiscal day
Note: Your card will be authorized for the value of your first order, plus taxes and fees, plus a default tip. This preauthorization will be removed from your statement automatically.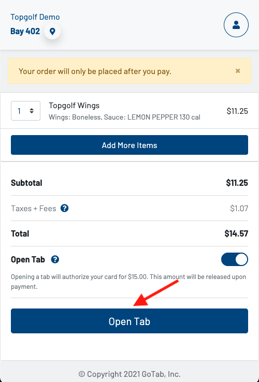 Step 6: If you are a first time user enter your cell phone number so that we can verify your device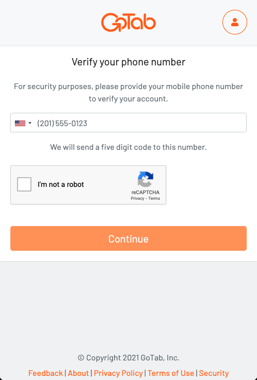 Step 7: Enter the five digit verification code that we send to your device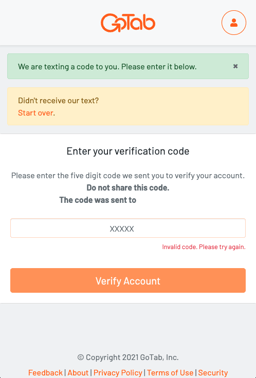 Step 8: Add a payment method to your account and agree to the Terms of Use. You may choose whether or not you want to save this card to your account for future orders.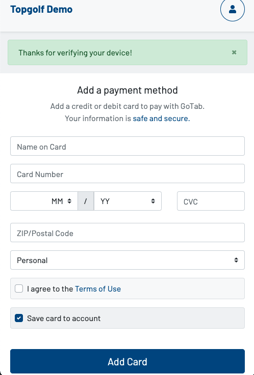 Step 9: Once your card is correctly entered, your order will be immediately confirmed by the system and your tab will be opened.
At this point you can continue ordering by selecting "Order More" or you can close your tab by choosing "Close Tab"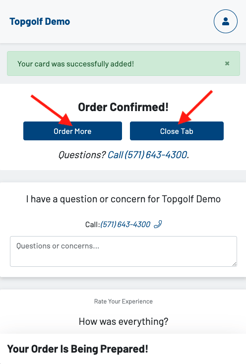 Closing the Tab: When you are ready to close the tab, first choose whether you want to pay for the full tab or a portion of the tab (you may also choose to split the payment between multiple of your own cards). Next, choose one of the preset tip values or enter a custom tip. Finally, click pay to process the full payment and close the tab.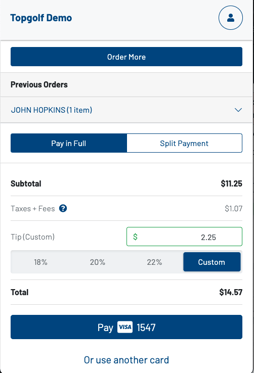 You will never have to complete this verification process a second time as long as you chose to save this card to your account. During the ordering process you may also want to share this tab with a friend. You can find directions for how to share this tab below: