Purchase/redeem gift cards.

There is no physical gift card.
There is no code to enter (like other gift card programs).
We aren't converting gift cards from external systems into GoTab gift cards.

A new Processors dashboard has been created to support the creation of INTERNAL processors.

Functionality from the Locations dashboard has been moved.
Assign the Gateway from the Processors dashboard (Stripe/Paysafe).
View/Edit Processor Fees from the Processors dashboard.

For now, the ability to create gift card programs have been limited to admin (GoTab) users.
IMPORTANT NOTE: Gift cards can be used across locations (e.g a Founding Farmers gift card that can be redeemed at any Founding Farmers). There is currently no way to set this up on the dashboard but GoTap support can do it directly. We are working on a dashboard feature to enable this.
---
Step 1: On the Processors dashboard, click the Add Processor button at the bottom of the screen.

---
Step 2: Select INTERNAL as the gateway (the only option right now). Choose a name for your gift card program (this name will appear on each gift card and is visible to the customer).

---
Step 3: Select your gift card as a product for your gift card program. The tax rate on this product must be 0.00%. When purchased, this product will create a gift card for the customer. The price of the product determines the value of the gift card.
Gift card products can use options to create different value levels. The product image is shown on the gift card. When you are done, hit save to create the new gift card program.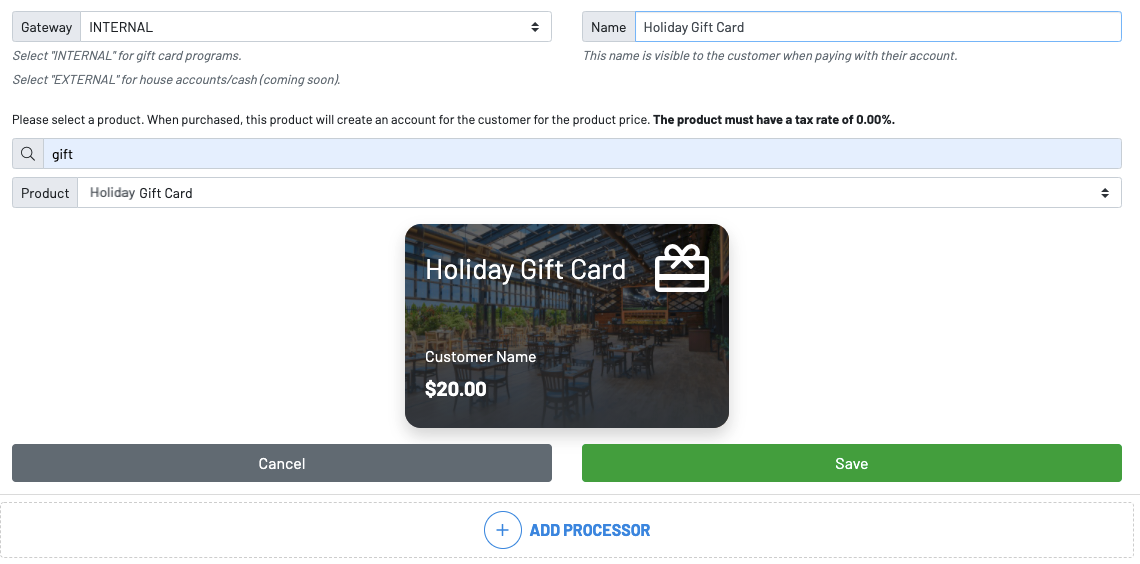 The product can be changed at any time by clicking Edit/View Accounts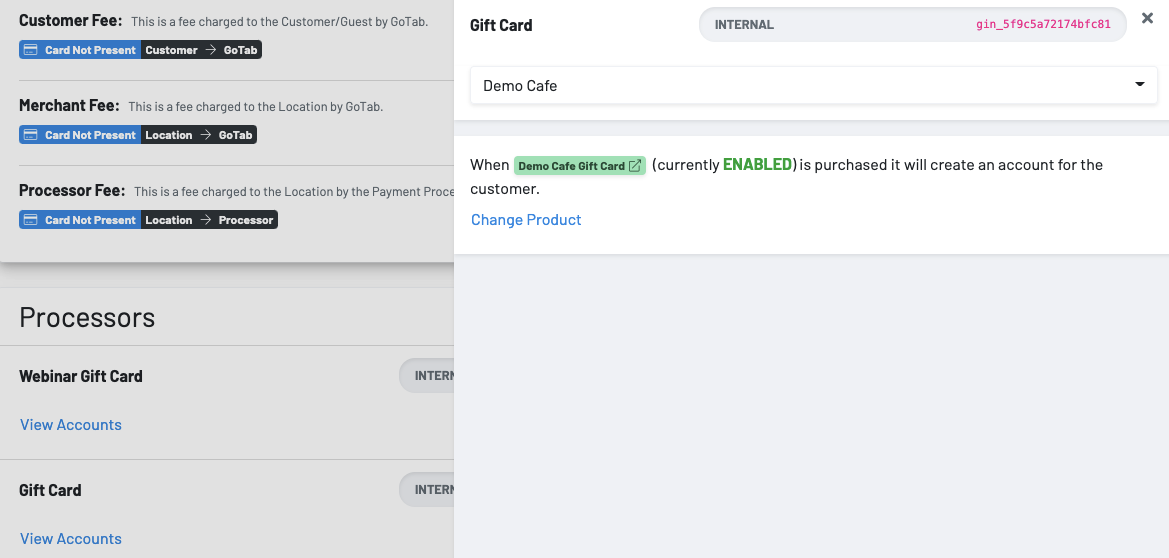 ---
Purchase
Now that your gift card program has been created, customers who purchase the product will have a gift card added to their account. Purchasing multiple quantities will result in multiple gift cards.
Gift cards do not incur autograt. They may incur other fees that the location has set up via order rules.
There is a link to view the gift cards from the receipt. The customer can also go to their account page to view their gift cards at any time (https://gotab.io/cust/account)
---
Merge/Transfer
From the Account page, customers can merge and transfer their gift cards. Only gift cards from within the same program can be merged.
When two or more gift cards are merged their balance will accrue to a single gift card.
When transferring the customer can send their card by a link, via SMS, or a QR code. The transfer link is valid for 48 hours.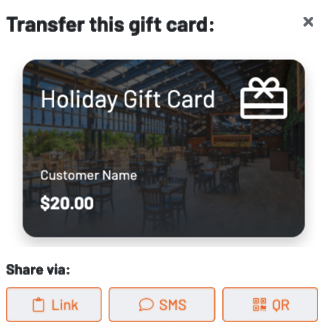 ---
Payment/Redemption
Customers with gift cards can select them from their list of payment methods on a tab.
The gift card must cover the balance of the tab for single orders. This is not a new limitation, we have not yet introduced split payment for single orders (we will eventually).
Open tabs can be partially paid for with gift cards.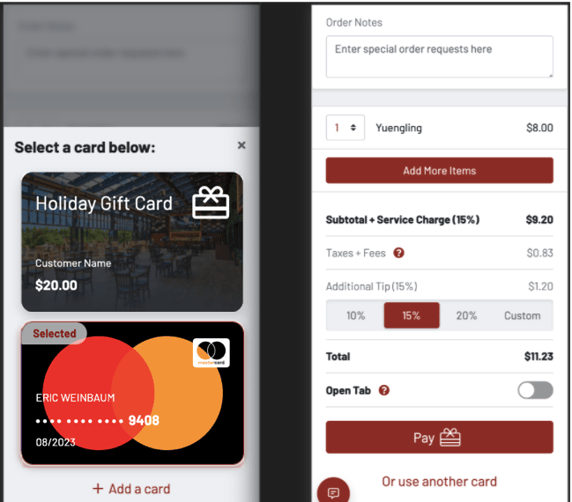 A payment will deduct from the gift card balance. Gift cards with $0.00 balance are hidden/removed.
---
Refunds
When paying WITH a gift card refunds can be given as normal. The balance will be added back to the gift card.
When paying FOR a gift card only item level refunds can be given. A tab cannot be openly refunded if a gift card purchase has been made.
The original purchase of a gift card cannot be refunded after the gift card has been used (in full or in part).