How to create & edit your Tax Rates
Creating Tax Rates, Editing Tax Rates
Learn how to locate your Tax Rates configurations dashboard so that you can update, remove, and edit your Tax Rates.
When to Use:
Tax Rates vary from state to state and sometimes ever-changing. One day you have only one tax on food, and then the next day you'll have a tax on alcohol. We'll teach you how to adjust your tax rates and set them throughout GoTab.
---
1) Go to your "Location Configurations" dashboard and click on "Tax Rates"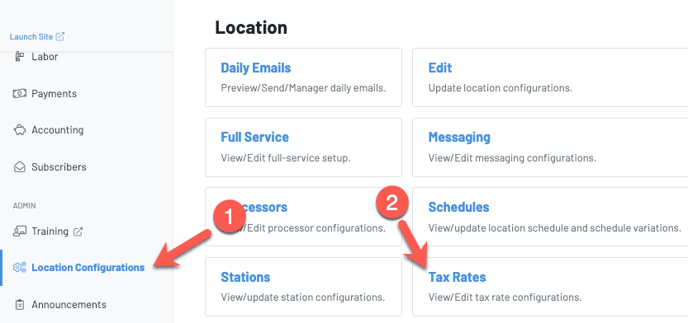 2) Click on the " + " sign to add a new tax rate.

3) Then go ahead and type in a customer-facing Tax name relevant to your location. Example: "VA Sales Tax". And then enter the tax rate. To complete, just hit the green checkmark to save.

4) Congratulations! You have created your tax rate! Once created, you can always come back here and edit the tax rate by clicking on the "edit" pencil icon.

5) Now that we have created a tax rate, all new products that you create will default to it. If you are a location that uses multiple tax rates you can assign the different tax rates either on the category level, or the product level. Here are some examples of where you can set your tax rate.
When editing/creating a category:

When editing/creating a product: