Creating a new account, New users, New profile
Feature Definition: Setting up a new GoTab account as a customer

Benefits: While customers can easily create an account wile completing their payment on site, some customer may prefer to create an account ahead of their visit to your location. This article will show them how to set up that new account and add a payment method so that their on-site experience is as seamless as possible.
Creating a GoTab account as an end user (customer) is incredibly simple. Start by navigating to gotab.com on your phone or computer.
The first button you will see requests that you enable cookies for gotab so that you are not requested to log in each time you use the platform. Click "Remember Me" to get started: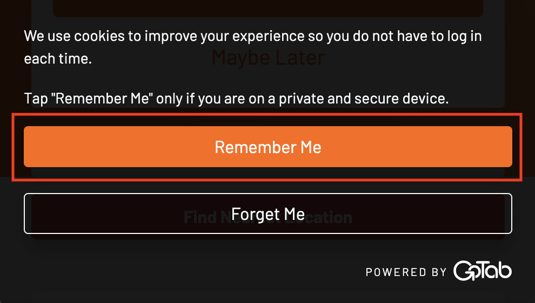 Next, follow these steps:
1. Click on the profile icon in the top right of your screen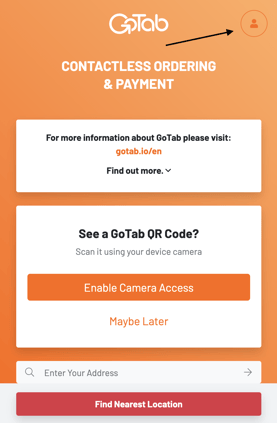 2. Select "Login"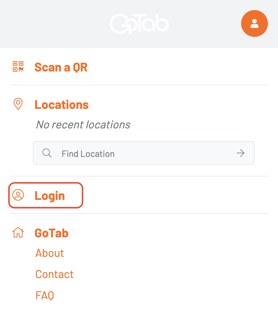 3. Enter your cell phone number. We will send you a 5 digit verification code that you will use to confirm your account (NOTE: GoTab will never share your personal information, we store your phone number securely and only you have access to your stored cards).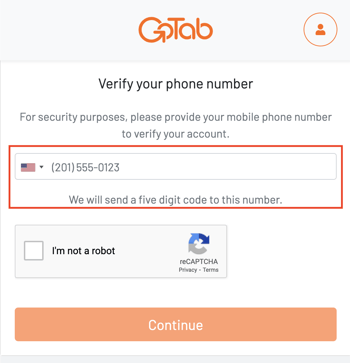 4. Now that you have verified your device, you will now be redirected to your account summary. Here you should fill in all relevant information including your Name, Birthday, Address (if you intend to order delivery), and a Payment Method.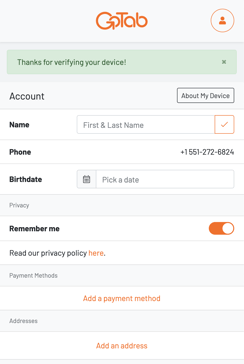 If you want to be able to pay without entering a payment method at your next visit to a GoTab location, you should make sure to enter it now. Make sure to read (and agree to) the terms of use, and save the card to your account.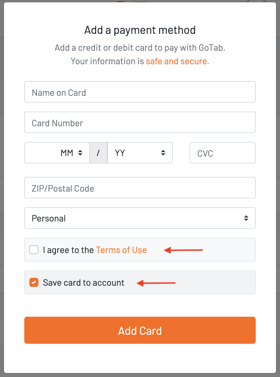 Now you're all set to start ordering!